Exclusive interview with Ms. Ashley Lai, General
Manager of the Courtyard by Marriott Hotel in Siem Reap, Cambodia.
Filmed via Skype on 27 May 2020, Steven Howard of
TravelNewsAsia.com asks Ashley to tell us more about the status of
travel and tourism in Siem Reap during the ongoing COVID19
pandemic.
Ashley tells us what is happening in the
normally very popular tourist destination, home to the
world-famous Angkor Wat temple complex that dates back to the 12th
century.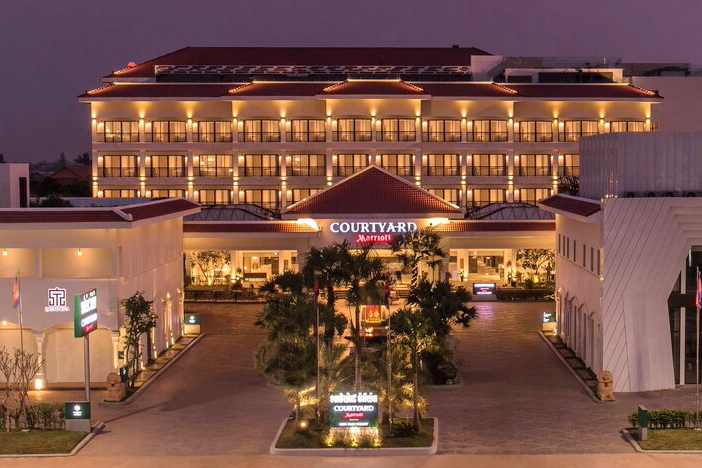 We discuss whether the hotel is closed or
not, how the property is managing employees, and what plans the
property has for the future.
We also talk about the owner, and Steven asks what
Marriott is doing to ease the management costs associated with the
property during this difficult time, and whether the hotel is
investing in new technology while the hotel is so quiet.
We
discuss what Marriott's new global cleaning policies mean to the
hotel in Siem Reap, especially for the check-in and out
processes, and Ashley tells us how technology can be used to help.
Ashley tells us more about domestic tourism within
Cambodia, why the lack of air connectivity within the region is
hurting Siem Reap so much and much, much more.
COVID19 Interview with GM of Courtyard by Marriott Siem Reap, Ms. Ashley Lai
See other recent videos from Cambodia:

HD Videos and Podcasts from Cambodia Travel Mart 2019:

Cambodia Airways – Exclusive Interview with Lucian Hsing, Commercial Director,

How's Business in Cambodia? Exclusive Interview with MD of Dara Hotels,

Cambodia Travel Mart 2019 – Interview with Hosted Buyer, May Yap,

Phnom Penh Tourism – Interview with Tour Guide, Rorn Saroun,

Urban Tales Phnom Penh Interactive Tours – Interview with Mey Leang Samir,

Cambodia Airports – Exclusive Interview with David Thompson, CCO,

Palace Gate Hotel in Phnom Penh, Cambodia – Interview with GM, Thy Sothea,

Vince Hotel Bangkok Pratunam – Interview with GM, Pitayakom (Fah)
Yangsuksathaporn,

Discover Thainess at the Vince Hotel Bangkok Pratunam – Interview with GM, Khun
Fah and

Lynnaya Urban River Resort in Siem Reap – Interview with Kan Chansathya, GM.
Editor's note:
My apologies that the audio and visual quality in this video interview
are not up to the same HD quality that they normally would be. This is the first in a
series of video interviews conducted over Skype, and, as with
anything new, there is a learning curve. Hopefully it won't be too
long until we are once again conducting exclusive video interviews
in person, but for now we have to make do with what we have. Thank
you.
See latest

Travel News,
Video
Interviews,
Podcasts
and other
news regarding:

COVID19,

Ashley Lai,

Marriott,

Courtyard by Marriott,

Siem Reap,

Cambodia.