Cam Wallace, Air New Zealand's Chief Commercial
and Customer Officer, has resigned from the airline.
He will step
away from Air New Zealand on 30 September and will provide
consultancy support to Chief Executive Officer Greg Foran until
the end of 2020.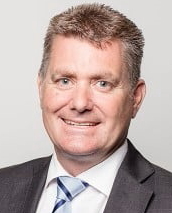 Cam started with Air New Zealand in 2001 and since
then has held a number of senior positions including Group General
Manager New Zealand and Pacific Islands and General Manager
Australia.
He completed business management programmes at
Darden School of Business, Kellogg School of Management –
Northwestern University Chicago, and the London Business School.
He also studied at INSEAD, France, where he completed the Advanced
Management Programme.
At Air New Zealand, he led a diverse portfolio
from Commercial, Loyalty, Cargo, Alliances, Retail Marketing,
Contact Centres, Tandem Travel, Regional Affairs, Tourism &
Cultural Affairs through to Customer Care, Customer Experience &
Insights, Brand & Content Marketing and Communications.
 Cam oversaw teams based both in New Zealand
and globally, including Australia, North America, Singapore,
China, Japan, the United Kingdom and Europe.
"Cam has advised me that given the airline
is now effectively a domestic carrier for the foreseeable future
that he is resigning to pursue opportunities that meet his global
career ambitions," said Greg Foran, Air New Zealand Chief
Executive Officer. "I would
like to thank Cam for the contribution he has made over the past
19 years, especially throughout the course of 2020 as the airline
has grappled with unprecedented challenges thrust upon it by
COVID19. His global revenue generation experience and deep
customer centricity have been critical to our efforts to ensure
our airline has a viable future."
The airline will not be moving immediately to
replace Cam's role and in the interim Greg Foran will take
responsibility for leading the Commercial and Customer function.
See latest

Travel News,
Video
Interviews,
Podcasts
and other
news regarding:

COVID19,
Air New Zealand,

CCO,
New Zealand.